About the College
Chapra Bangaljhi
Mahavidyalaya
Chapra, inhabited mostly by minority communities is an area lagged behind. A lot of endeavors throughout years after years had brought advancement in primary, secondary and higher secondary education of this locality but no such initiative was taken for the development of higher education in Chapra. Consequently a large section of ambitious youths had to sacrifice their dreams of higher education. Despair and distraction were gradually being generated among the educated communities. The residents of Chapra therefore desperately needed a higher educational institution. To substantiate this dream, ' Chapra Nagarik Committee' in 1989 took initiatives to set up an educational institute for higher education. Sri Satyasadhan Karmakar, national award recipient and headmaster of Bagmara high school and Sri Mirkashem Mondal, Headmaster of Pukhuria high school and former MLA of Chapra together took oath to fulfill the dream of the villagers. A major problem turned up in the form of unavailability of proper land. Sri Late Ajit Tarafdar, who became the President of the Governing Body of Chapra Bangaljhi Mahavidyalaya later assured donation of land of 'Bangaljhi Baroari Committee' and One Lakh Rupees.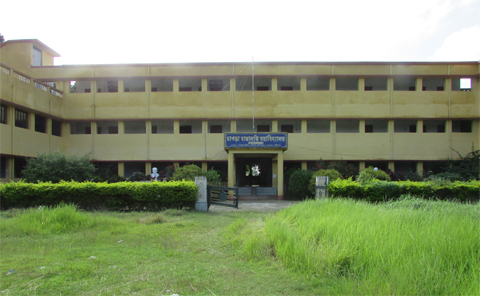 Support of some organisations and local patrons of education in the locality came forward to help sri Mirkashem Mondal in strengthening the mission. Sri Mirkashem Mondal, the then mla of chapra put forward the proposal to the higher education department of West Bengal at Bikash Bhawan. By the direction of the then higher education minister Sri Satyasadhan Chakraborty, the first meeting took place in the conference room of Chapra Panchayat Samity where 31 of 51 invitees were present. A 27 member preparatory committee was formed. The then BDO of Chapra block Sri Sunil Kumar Dey was appointed as the president of the committee. Sri Satyanarayan Karmakar was the cashier and Srimirkashem Mondal was the secretary of the committee.
On 28th july,2000 4.06 acre land of Chapra Bangaljhi Baroari was registered in possession of the college. One lakh rupees donation from Sri Late Ajit Tarafder, twenty thousand rupees donation from the chapra jute traders association and ten thousand rupees donated by Chapra Bazar Samity were deposited to open the college's reserve fund in the united bank of India. The college was named Chapra Bangaljhi Mahavidyalaya as a tribute to all the inhabitants of Chapra Bangaljhi.
In 2000-2001 Chapra Bangaljhi Mahavidyalaya got approval to initiate classes. But it could not be possible in that particular academic session due to late approval. It started in 2001-2002 session with 60 students eventually. Five teachers were appointed to conduct classes on five subjects ( bengali, english, history, political science and Geographhy ). Sri Basudeb Ghosh took the charge of tic. Classes were held on those days in Bangaljhi Swami Vivekananda Vidyamandir from 7a.m to 10 a.m. Chapra Bangaljhi Mahavidyalay will be grateful to headmaster Ismail Shaikh , his colleagues and school managing committee of Bangaljhi Swami Vivekananda Vidyamandir for their great assistance in the early steps in the journey of the college.
The foundation stone of the college was set up by Sri Saatyasadhan Chakraborty , the then higher education minister, west bengal on 13th march in 2001. Meanwhile by the appointment of college service commission Dr. Krishnagopal Roy joined as a fulltime faculty and he took the charge of the institution. New building of the college was inaugurated in 2003. Twenty one large classrooms , laboratories with facilities of computers and other instruments, library, office room , common room , canteen, students' union room, an open stage namely lalan mancha – all have been set up throughout the subsequent years. Pleasant and decorated surroundings arean important feature of the institution. Sky-scraping development of this college in such a short span of time has been possible due to enthusiasm and inspiration of Sri Mirkashem Mondal along with the creativeness and tireless effort of Dr. Krishnagopal Roy who honoured the post of principal from 2006 to 2016 . After Dr. Krishnagopal Roy, Smt. Gargi Sengupta, assistant professor of the department of political science took the charge of the institution in 2016 and served till 2017. At present Dr. Niranjan Guha is honouring the post of principal of the institution and under his inspiring guidance the college has reached new heights.
The college is now permanently affiliated to the University of Kalyani, Kalyani and has 2(f) and 12(b) recognition from the university grant commission. At present the institution offers nine arts subjects- Bengali, English, Geography, History, Political Science, Philosophy, Education, Sanskrit and Sociology at undergraduate level to around 2000 students. A new science building is under construction. From 2010 few courses of post-graduation has been started in the distance mode under Rabindra Bharati University. Since its inception the college provides the students quality education with moral values and necessary skills and enables them to become responsible citizens of the country. In the locality the institution has been playing a significant role as the harbinger of light of higher education.